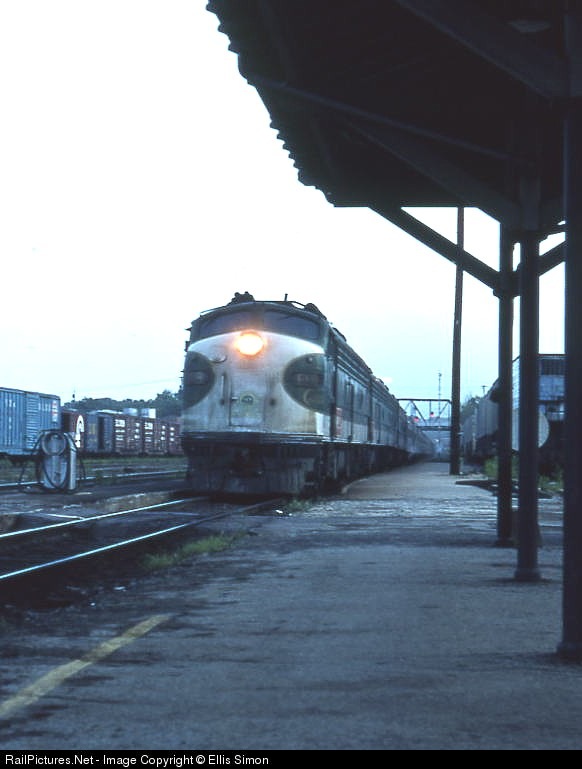 Thanksgiving is traditionally Amtrak's busiest travel period. The railroad adds dozens of trains in the Northeast Corridor and adds cars to runs in other parts of the country. It's a treat for railfans since equipment from MARC, SEPTA and MBTA is often leased to help out with the crunch.
My one experience with the Thanksgiving rush came in 1976 when I came home to Long Island from South Carolina, where I was working as a newspaper reporter. I managed to string together a few days of comp time into a five-day break that would enable me to spend the holiday with the family and leave time for travel by train.
After work on the Tuesday before Thanksgiving, I drove over to the Southern Railway's depot in Greenville to await the northbound
Southern Crescent
, en route from New Orleans to Washington. The Southern was one of the few Class I railroad to stay out of Amtrak, and the
Crescent
, its last train, was maintained to impeccable standards - a matches stainless steel consist hauled by four green, gold and white E-8 diesel electric locomotives, each named for one of the 17 signers of the Declaration of Independence from the four southern states.
The train left a little before 10 p.m. I settled into my coach seat and then headed to the lounge car for what I hoped would be a night of partying. Much to my surprise, not long after I found a seat there the attendant announced "last call." He explained that he had to close up before the train reached the state line because North Carolina was a "dry" state.
After downing my cocktail I returned to my seat but, as is usually the case, I could not fall asleep. Somewhere it Virginia, probably between Danville and Lynchburg, I headed to the dining to to await the call for breakfast. I chatted with a young school teacher from a small town in Virginia who talked about her students. She showed me the paper of one who said her dream was to kiss (wrestler) Ric Flair.
As we chatted, the dining car crew strolled toward the kitchen, including Louis Price, the Southern Railway chef featured in the railroad's advertising for the
Crescent
. I said "hello" and asked him about a rumor that President-elect Jimmy Carter had asked him to come work for him in the White House. I don't remember much about breakfast other than the delectable bran muffins Louis had whipped up and that I ate somewhere around Charlottesville. About 2 1/2 hours later we were coming into Washington D.C.
Shortly after we arrived, the through cars for New York - two coaches and a sleeper - were attached to the rear of a Boston-bound Northeast Corridor train. However, we were operated as a separate train within a train with our own cafe car and apart from the other passengers. The cafe car was a former Pennsylvania Railroad parlor car, and for the price of my coach ticket, I enjoyed the luxury of a first-class individual swivel seat the last 225 miles to New York.
For the return trip, I was able to persuade my father to spring for a roomette between from Washington to Greenville. In those days, it was a mere $21 extra.
I recall Penn Station being mobbed, but I had no trouble boarding my train. My seat mate on the New York-Washington leg, I learned, was a student returning to Spellman College in Atlanta. Once we reached Washington, I headed forward to take my space in the sleeper. It was my first sleeping car experience and the only one I would have on the Southern.
The only thing I remember from that trip was the dinner, an excellent prime rib. I was too tired to socialize, and with a 6 a.m. arrival in Greenville I decided to hit the hay early. Once again, sleep did not come easy. I can remember rolling through Gastonia. Not long after I finally nodded off, the porter rang to buzzer to let me know we had just left Spartanburg and would be arriving in Greenville in less than an hour. I quickly got dressed, and was ready when the train reached Greenville on time. I drove home and napped for a few hours before going to work.
Both the Southern and Amtrak had provided what they were supposed to: safe, dependable transportation with decent accommodations and meals. Even the sorry state of the Northeast Corridor in the months after Amtrak acquired it from Penn Central would not prove an impediment. I hope everyone traveling by train this holiday will have a comparable experience.